My children have been making Leprechaun traps for years, and even though my two eldest are about at an age when this shouldn't be deemed "cool," they are still all in. Maybe it's for the sake of my youngest… but regardless of age, this activity is just FUN.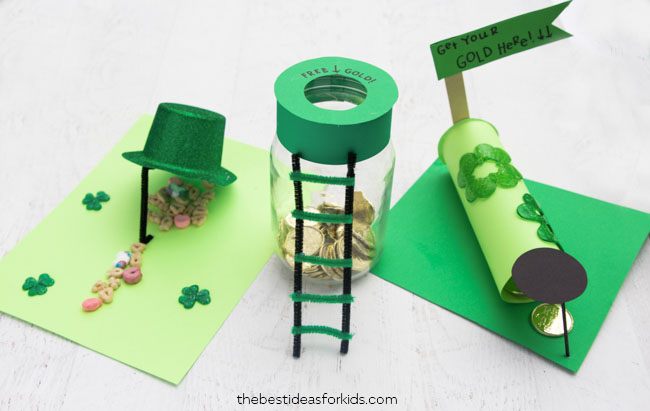 Luckily, St. Patrick's Day is right around the corner and designing a Leprechaun trap is the perfect activity to focus on to bring some joy back into daily life. 
To start some background information.
If you were unaware, Leprechauns come into the human world only once per year, on the evening of March 16th. On that evening they search the world for children who are trying to trick them with a trap (Leprechauns cannot resist a sneaky challenge). It has been our experience that they always leave evidence of their tampering with the traps either through a dusting of glitter, a knocked over trap, or maybe some green footprints. However, the very best part is that the Leprechaun leaves a special treat behind for each child. If yor child seems concerned about the well-being of the Leprechaun, you can let them know that Leprechauns are resistant to all human viruses.
Now it is time to get building!
Since Leprechauns are small you do not need to build anything too large. Just grab any cardboard box that you have lying around. Add a door, maybe a room or two, along with some tricks for your Leprechaun (they love shiny things) and you're done. Place the trap (or "playground" as my eldest daughter has always called her trap) somewhere that your child thinks is accessible to Leprechauns on the evening of the 16th. Once your kiddos are asleep create some Leprechaun havoc and don't forget to leave a small treat or prize behind.
Your children will wake up excited to find what the Leprechaun has done, and will be thrilled to have received a special treat from him.
Now get going… there is not much time!
Suggested supplies:
-cardboard box
-jars
-glue
-pens or paint
-glitter
-safe scissors
-anything else you have laying around (buttons, fabric, popsicle sticks, etc)